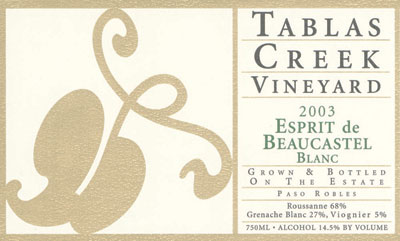 On our way back from Ensenada, we stopped at the
Tablas Creek Vineyard

in
Paso Robles.
Having never been to a tasting room before, I was a little anxious going in, but I found the staff friendly and accommodating, and their comments on the wines were tactful and minimal. None of the wines really impressed me with complexity or power, though having recently had a cold, my nose was still a tad stuffed. That said, I learned a lot, and experienced several new flavor-aromas.
1.
Côtes de Tablas Blanc 2006 ($22)


NOSE: Apples, hints of melon. PALATE: Slightly sweet, but with balancing acidity. More viscous than the Herrenweg or the last Riesling I tried. Slight oiliness to the mouthfeel. Not much on the midpalate aromatics. Finish was nutty, slightly bitter, and acidic. Not as clean as the Esprit de Beaucastel Blanc '06.

(87-89)-RP



59 Viognier
32 Marsanne (probably gives viscosity, according to the pourer)
6 Grenache Blanc
3 Rousanne



2. Esprit de Beaucastel Blanc 2006 ($40)


NOSE: A little apple, something like wood but slightly synthetic - furniture polish? Some toast! PALATE: Dry. Definitely had good acidity to balance the fruit. Weightier in the mouthfeel than the
Côtes de Tablas Blanc, but not more viscous. Didn't have the same oiliness. On the midpalate, this was the most aromatic of all the wines, with distinct nuttiness. Cleaner finish than the
Côtes de Tablas Blanc.

(92-95)-RP



65 Rousanne
30 Grenache Blanc
5 Picpoul Blanc



3.
Côtes de Tablas 2005 ($22)


NOSE: Good fruit with a hint of barnyard. PALATE: Dry. Watery mouthfeel. Somewhat hollow on the midpalate - the Esprit de Beaucastel Blanc had more retronasal aromatics than this wine.Tannins that were fine-textured but clearly present. The finish was clean and tannic. More acidity than I would like. Not an extracted wine. ASPECT: Light, purplish.

90-RP



43 Grenache
24 Mourvedre
18 Syrah
15 Counoise



4. Mourvedre 2005 ($35)


NOSE: Earthier cherry notes. Less exuberant fruit than
the Côtes de Tablas. Earth. Slight barnyard. PALATE: Weightier than the
Côtes de Tablas
. Dry. Good, clean, tannic finish. More aromatic on the midpalate than
the Côtes de Tablas.

87-RP



100% Mourvedre



5. Esprit de Beaucastel 2004 ($45)


NOSE: Cherry, quite earthy. There was a reticent tone of delicious fruit - similar to what I have referred to as "cherry" in past Syrahs. Perhaps this was the 27% Syrah speaking up. Somewhat tight nose. PALATE: Velvety feel. Sweet. Low acidity in the midpalate, but the acidity shows through in the finish. Good, strong,

rich

tannins on the finish. Somewhat woody aftertaste.

92-RP



50 Mourvedre, 27 Syrah, 17 Grenache noir, 6 Counoise.



6. Esprit de Beaucastel 2005 ($45)


When I first smelled this wine I noticed a "sulfur" smell that seemed similar to that of newly opened Aussie shiraz's. I asked if the wine was just opened, which it had been. When I smelled it a second time, I was disoriented, convinced I wasn't smelling the wine - there was another tone, ting the sulfur, that I could not identify, but that made me think of a person somehow - some sort of weird stinky body odor. I sniffed around outside, but it did seem to be coming from the glass. After a bit of swirling, that scent subsided and I was left with a bit of the sulfur and a yeast-like smell. When the pourer brought my glass to the attention of the guy who looked like he was in charge, he said it had a very slight Brettanomyces scent ("It's Brett, but it's barely there."). I don't know which of the three non-wine smells was Brett, but it was certainly very strange. The same guy said Brett is considered a flaw in CA but in Europe it is not as big a deal.

NOSE: some fruit, masked by the aforementioned strangeness. PALATE: Served too cold (makes sense - they had just opened it). This was even sweeter and more tannic than the last wine, giving me cause to wonder if sweetness and tannins have a cumulative build-up effect. Tannins should build after a certain point, as one's palate runs out of salivary lubricating enzymes (which are denatured by tannins). Some fruit on the midpalate. Clean finish.

(92-94)-RP



44 Mourvedre 26 Grenache Noir 25 Syrah 5 Counoise

7. Vin de Paille 2005 (dessert wine, dried on straw after picking) ($55)

NOSE: Dried apricots! A little yeast (Brett?).
PALATE: Sweeeeeet. Unctuous midpalate, like sweet motor oil - slight petrol flavor. Apricot-like bitterness (not bad). Finishes bitter. Some acidity, but the sugar completely flattens it. The pourer said it was more acidic than most dessert wines. 262 g/L residual sugar. The 2001 Filhot I had after this showed slightly better (it was just barely drinkable for me), but I'm really on the fence for both of them. Dessert wines are tough for me.

90-RP