Better late than never! Here are the wines from Thanksgiving in Boston (11/23/07). The wines were all tasted with food, so my notes should be treated with more than the usual circumspection.
Roux Pere & Fils Beaujolais-Villages 2005 ($13), second tasting:
See
my notes for the first tasting
. We opened this wine while cooking.
On the nose, it never developed the strong aromatics I remembered. It seemed to take on onion and pie characteristics at different times, depending on what it was close to. In fact, the nose seemed "tired" the entire time. Pretty disappointing. On the palate it presented none of the grippy tannins I recall, weak retronasal aromatics, mostly acidity and alcohol. I don't know what killed this wine, but it did not show well at all. Not corked.
2006 Pillar Box Red (Padthaway)($13):
The consulting winemaker, Chris Ringland, is known for his explosive wines, and this is no exception - a teeth-staining, palate-coating, spicy fruit bomb that has a peculiar "savory" flavor profile supporting a fruit-forward, pure nose. On the nose, Shiraz ("sulfur") and Cabernet ("chocolate-candied-cherry") tones come through, with black raspberry and a hint of synthetic apple. On the palate, it can be dry or notably salty-sweet, depending on food pairing. Just enough acidity that it doesn't grab attention, but frames the fruit well. Weak tannin structure. This concentrated, mouth-coating wine attacks the palate with dark, savory, spicy, extracted fruit. The savory-bitter midpalate character carries through to the finish, jousting with the weak tannins long after the fruit has faded. Not viscous in the mouth, but intensely flavorful, weighty. A well-made, super-flavorful, balanced, clean wine. Not aromatically complex. ASPECT: Brilliant, deep purple-red. ~2mm of clear meniscus. Completely opaque ~1cm from the edge. COMPOSITION: Shiraz/Cab/Merlot (50/42/8). Alc 15%.
2005 Yard Dog Red (Red Heads Studio) ($11):
NOSE: blueberries, butter, apple jolly-rancher. PALATE: Low acidity, medium to full-bodied, mouth-filling, tongue-coating fruit bomb. Slight dryness from light tannins yield to a smooth finish. Dark fruit on the midpalate. Very interesting by itself, but paired with the Thanksgiving fare, took on a fake, herbal quality that didn't go with the food. Didn't go with Kaltbach cave-aged cheese, either. In conclusion: interesting, a little "fake", good and satisfying and intriguing by itself. Red Heads Studio also produced the '04 Barrel Monkeys Shiraz. Mostly Petit Verdot with Merlot and a little Cabernet.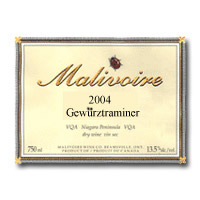 Malivoire 2004 Gewurztraminer (Ontario, Canada!)($19)
For me, this wine did something very special on the aromatics. Subtle lychees, lemon rind, a hint of grapefruit, rosepetal, and faint orange and spices instantly recalled a fruit market in India. A beautiful nose. On the palate, it was not to my tastes. Fruity and full-bodied, with good aromatics on the midpalate. A sweet, syrupy body with low acidity and bitterness from the midpalate to the finish. I felt slightly nauseous after the first sip, it was that sweet. Not my style.
ASPECT: brilliant golden color. "good color" according to GV. COMPARISON TO BARMES BUECHER: sweeter, less lychee characteristic, more complex nose. OVERALL: Great to smell, can't drink it.
My observation of Gewurz after tasting two representative examples: I love the nose, more than any other white wine. It resonates with my memories of Indian fruits. However I can't stand the sweetness and the bitterness. SCORE:
70 RA
on the nose alone.