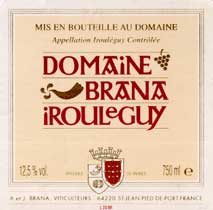 2004 Domaine Brana (Irouleguy, Pyrenees)($23)
Double-decanted and tasted in an Indian restaurant with strong ambient aromatics.
NOSE: Tight. The main scent was of freshly manured dirt, with a little cranberries and strawberries. A little creamy dark chocolate action too (an oxymoron? perhaps not). It didn't do much for me initially. And I can't say it was immediately delicious, but it was interesting, and it drew me back and eventually grew on me. Perhaps we didn't decant early enough. After a while, a brief tone of tight, but pleasant-smelling fruit shone through. Perhaps the grapes were not completely ripe in this vintage.
PALATE: If the nose had hints of milk chocolate, the palate was dark chocolate
all day long!
It reminded me of 99% Teuscher dark chocolate. If you've never had it, it's dark and bitter yet bizzarely creamy. The wine had a powerful attack of rustic earthy flavors, medium viscosity, explosively flavorful midpalate with good chocolate aromatics. Like satin in the mouth! The finish treated me to a little skit: first Alcohol and Tannins danced a little jig around a small, fading Cranberry. Then the little Cranberry spoke up with a bright, acidic tone. Finally, Tannins and a glorious Dark Chocolate Bitterness took the show home. The tannins gripped my tongue on the first taste, and did not let go until half an hour after the meal. It was really, really good. Stronger, fuller, riper tannins than Barrel Monkeys.
The acidity was present but not overt. The tannins were huge. This wine was a heap of fresh manured earth, supported by a stone wall of tannins with acidity as mortar. It really tasted like running into a rock wall. I would have liked more fruit, but I thoroughly enjoyed the experience.
ASPECT: Dark saturated color, slightly purple (dim light).
With Indian food: I was left with just the manured earth smell and the tannins. Didn't go fantastically, but I'd try it again at a less noisy/smelly Indian restaurant.
13.5%, 70/15/15 - T/C/CF
2005 La Noble Merlot (South France) ($8)
NOSE: Sour milk. A little fruit, tiny bit of milk chocolate, some green banana.
PALATE: Light, watery, hollow midpalate. A little more acid than the tannat, but not an overt amount. A little bitterness. Finish: short. bitterness, alcohol, tannins. Seemed to have strong tannins, but J disagreed.
ASPECT: Saturated purple-tinged color.
This wine did not show w
ell.
(88-WA?)