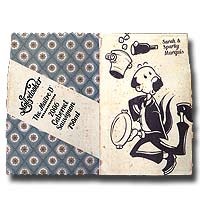 2006 Mollydooker "The Maitre D'" Cabernet Sauvignon (McLaren Vale) (Wegmans $20)
Sickeningly sweet. Hot with alcohol. Low acidity and weak, fine-textured tannins.
2005 Cousiño Macul Antiguas Reservas Cabernet Sauvignon (Chile) (Community $13)
Nose: Interesting, if not appetizing: dominated by burnt rubber, with vegetal/earth tones, and a hint of olive. Less sweet than The Maitre D', but has noticeable residual sugar. Medium acidity and tannins balance out the palate. Better than the Maitre D', but not great.
Tasting Notes:
The
'06

Mollydooker The Maitre D'
was given "the Mollydooker shake," which certainly opened up the bouquet, revealing a straightforward, fruity, and delicious bouquet of cherries and raisins, though the alcohol was rather heavy in the nose. It was served a bit on the warm side, but then again, with 16% alcohol, perhaps it would have tasted hot and biting at any temperature. On the palate it was sickly sweet and alcoholic. The low acidity, and faint, fine tannins did nothing to support this wine. In sweetness it was a little less sweet than the Marquis Philips, which in turn was less sweet than the Kiss Chasey. However it was like Kiss Chasey because of the low acidity and tannins. To my palate, undrinkable.
The
'05 Cousiño Macul Antiguas Reservas
took some time to open up, even after triple-decanting. The fruit in the nose was there, but very subdued. At first there was a vegetal, earthy smell, perhaps sodden wood or mushrooms. Eventually the predominant smell of burning rubber appeared, with a hint of olive. The nose was quite interesting, if not delicious or appetizing. The palate displayed subdued sweetness, well balanced by medium acidity and tannins.
Robert Parker's
The Wine Advocate
says:
"The deeply colored 2005 Cabernet Sauvignon Antiguas Reservas offers toast, spice box, cedar, and black currant scents."
- Jay Miller

Either both Jo ad I have messed-up noses, or Mr. Miller tasted a completely different wine.